Surviving Puppyhood
Classes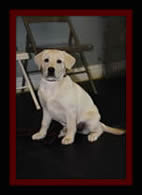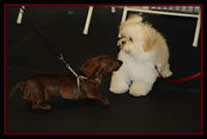 6 Weeks Total - Once a Week for 6 Weeks

We have a Private Indoor Retail Location - Only Open By Appointment! You are choosing toTrain with a 20+ Year Experienced Knowledgeable Positive Reinforcement & Force Free Trainer. We welcome and encourage you to make an appointment to watch a Class in action to ensure a great fit in advance, before signing up and making payments, especially if you have any concerns.
Minimum 2-to-6 Maximum Puppies / 1 Adult Human Minimum-to-2 Humans Same Household Maximum per Class

Age Requirements: For Puppies 8 Weeks to 16 Weeks of Age at the start of the Week #1 Class Date.
Methods: Positive Reinforcement and Force Free

Week #1 - Human Lecture​ - Is without the puppies lasts approximately 2.0 hours maximum. Your In Person - Human Only - Week #1 Lecture although not mandatory, is highly recommended to New Clients to The Right Steps In Person. At this Class you are provided with a Written 6 Week Training Packet.
Entails: House Training, Jumping, Humping, Play Biting, Over Arousal, Management, Socialization, Body Language, Fear Periods, Physical Age Appropriate Exercise, Mental Stimulation, and more.

Thereafter, Weeks #2-through-#6 - Clients attend physically with their puppies for 45 minutes paid Class Time (for those only that attend the 45 Minute Training Class each week, they include an attached Complimentary/Optional On or Off Leash 10-15 Minute Socialization/Meet &/or Greet/Play Time at Trainer's Discretion, before or after your Class Time).  
Lesson Plan: Marker Word/Reward Mark (Clicker Optional), Recall, Eye Contact, Catching and Rewarding Desired Behavior, Sit, Sit to Stand, Sit to Down, Sit to Down to Stand, Sit to Down to Sit, Down from a Stand, Loose Leash Walking, Attention Walking Heel, Sit Stays, and Down Stays. Learning how to utilize Rewards appropriately based on Distraction Levels both in Class and out in the Real world.
Optional/Complimentary: A complimentary/optional Private Face Book Group (optional is not required) is provided during your 6 Weeks for complimentary viewing of Pre-Recorded Weekly How to Videos, as well as breaking down the cues and problem solving videos. This is not a paid portion of these Classes.
These classes have been designed to help you obtain the best possible puppy! The early months of life are crucial to your puppy's development, both physically and mentally. These classes focus on teaching puppy owners positive methods of getting the behavior they want. Classes are for all size and breeds of puppies (both mixed and pure bred and from toy, small, medium, large, to giant sized breeds). 
Owners are educated on the importance of balancing proper Management, Mental Stimulation, Age Appropriate Physical Exercise, Training, Socialization, along with teaching their puppy how to chill (important pieces to a creating a puppy you, your family, and others can enjoy).

Allows an Experienced Trainer see any Red Flags of concern and point them out early, to allow you to be aware and come up with an action plan.

Training begins by using hand signals first, once puppy fully understands the hand signal and owners are standing in a normal upright position, verbal cues are then added. This enables owners to give their verbal cues once, versus repeat cues that the puppy would learn to ignore. We teach owners to be able to get and maintain their puppy's attention with distractions. Owners are taught how to use rewards (treats, toys, play, and praise) properly to motivate their puppy.
Curriculum:  Please remember these Group Training Classes are a set Curriculum - Training Plan/Program each week, as a Group Training Class, these are not Private Training Sessions.  These Classes do not cover Behavior Issues outside the scope of the Group Training Class Program.  Physical Group In Person Classes are not appropriate for Puppies/Dogs with Puppy/Dog or Human Reactivity and/or Aggression Issues.

SPH Videos & Photos #1: https://photos.app.goo.gl/gQHdA9mgJ6K0UrQ82
SPH Videos & Photos #2:  https://photos.app.goo.gl/TZXNM7TDA69Dpq0j2
SA/ADBTB Videos & Photos:  https://photos.app.goo.gl/moDJJXbKcNS4mHoF3
We look forward to meeting you soon. Thank you for your business!
Remember Socialization & Training do not stop with a single Puppy Training Class! Training should continue from Puppyhood, into Adolescensce, to Adult. Creating a well socialized and trained dog ultimately takes time, focus, consistency, and lots of patience!
Check us out on YouTube....   On Thursday, February 17th, 2011 we were on FOX40 Live with Bethany Crouch for 2 part segments: Part 1 of 2 & Part 2 of 2.  We hope you enjoy!