Surviving Adolescence
Classes
Class Description: For Puppies 4 Months -to- 8 Months of Age (+ This Class is currently combined with our Adult Dog Back to Basics Class - As a Combo Class - All ages of Puppies/Dogs 4 Months and Older including older Adolescents, Adult Dogs, and Seniors)....
Physical & Online Group Classes - See Class Schedules & Fees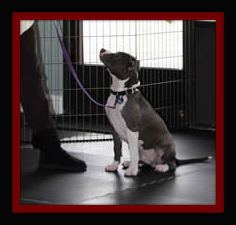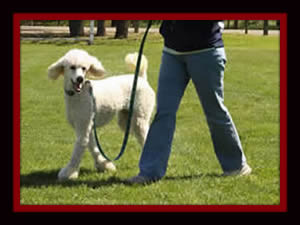 By chosing Cindy C. Smith, CNWI & The Right Steps you are making the first important step, by seeking a Long Time Professional Experienced Positive Dog Trainer, to help you get your puppy/dog started on the right foot/paw for early training! 
6 Weeks Total - Once a Week for 6 Weeks - 2 Puppies/Dogs Minimum -to- 4 Puppies/Dogs Maximum '&' 1 Adult Minimum-to-2 Humans Total Same Household Maximum Per Puppy/Dog to allow for a Small Focused Personalized Class Experience and allow more floor space to work each Puppy/Dog.

Week #1 - Human Lecture - is without the puppies lasts approximately 2.0 hours maximum. Lecture may be attended physically in person at Week #1 at our Facility or you may watch Pre-Recorded Videos via a Private Face Book Basic Training Group at home. 

Thereafter, Weeks #2-through-#6 - Clients attend physically with their puppies/dogs for 60 minutes.
We have a Private Indoor Retail Location - Only Open By Appointment!
SA/ADBTB Videos/Photos: https://photos.app.goo.gl/moDJJXbKcNS4mHoF3
SPH Videos & Photos #1: https://photos.app.goo.gl/gQHdA9mgJ6K0UrQ82
SPH Videos & Photos #2: https://photos.app.goo.gl/TZXNM7TDA69Dpq0j2

These classes have been specially designed, for over 20+ years now, to help you obtain the best possible puppy/dog! The early months of life are crucial to your puppy's development, both physically and mentally. Classes focus on teaching puppy/dog owners positive methods of getting the behavior they want.   Methods are humane methods utilizing Positive Reinforcement and Human Equipment.  Goal is creating a quality bond between puppy/dog and owner, as well as having a future well trained dog they can enjoy.
YES, REWARDS will be used - A true reward has value to the puppy/dog, or it is not a reward.  We will utilize food rewards in Class, but other rewards later will be encouraged (toys, playtime, games, lovies for example - again they are only a reward if the puppy/dog values them).  Training should be fun!
Clients will be using a Reward Mark/Marker Word for training/clear communication.  For those interested, Clicker Training is encouraged and welcomed!  We love the Karen Pryor I-Click Clickers.  Terry Ryan also offers nice Clickers. We have Clickers offered for sale in our Student Store.
Old school methods of using dominance, fear, pain, physical corrections, hanging puppies, physical force, choke chains, prong collars, shock collars, flexi-leashes will not be used or tollerated for the health, safety, and both physical/mental well being of puppies and other Clients in Class.  These methods truly are not needed and can backfire rapidly creating other bad/scary behavior issues, that in reality never had to happen.
Classes are for all size and breeds of puppies/dogs, whether pet/family puppies, show puppies, future performance dogs, or future pet therapy dogs.

Group Classes are not appriopriate for puppies/dogs with dog/dog and/or dog/human aggression/reactivity issues. Please see Private Training Options for these issues. Questions? Please contact us BEFORE signing up for a Group Class.
Week #1 is without the puppies/dogs where owner education is provided on positive solutions to problem puppy/dog behavior (examples: play biting, jumping, house training), you will also learn examples of what motivates puppies, how to capture/shape behavior, safety tips, how nutrition may effect behavior (good and bad), the difference between mental stimulation and physical exercise, equipment, and much more).  Lecture normally lasts approximately 2.0 hour maximum.
Following Weeks #2 through #6 are all with the puppies/dogs - Training begins by using hand signals first, once puppy/dog fully understands the hand signal and owners are standing in a normal upright position, verbal cues are then added. This enables owners to give their verbal cues once, versus repeat cues that the puppy would learn to ignore. We teach owners to be able to get and maintain their puppy's/dog's attention with distractions. Owners are taught how to use rewards properly with a correct rate of reinforcement to motivate their puppy/dog. Each Class is 60 minutes long.
Overview of Cues Covered: Sit, Sit to Stand, Sit to Down, Down to Stand, Down to Sit, Down from a Stand, Attention Walking/Heel, Recall (come), Loose Leash Walking, Sit Stay, Down Stay, Name Recognition, and Shaping Eye Contact.  Rewarding/capturing quiet behavior (non- barking/being calm behavior)..
We have blinds we utilize/set up to help puppies/dogs succeed in Class (barking puppies/dogs and shy puppies/dogs for example).  Goal is to best set up for success. The blinds are our friends!
Small Class Size - Only 2 Minimum-to-4 Puppies/Dogs Maximum per Class '&' Maximum of 2 Same Household Humans per Puppy/Dog to allow for a more personalized Group Trainer time and to maximize floor space.
*Fee:  Please see our Class Schedule for Current Fees - https://therightsteps.dogbizpro.com/Public/Registration/Index.aspx
Questions? Please call or e-mail us before signing up.
Remember Socialization & Training do not stop with a single Puppy Training Class! Training should continue from Puppyhood, into Adolescensce, to Adult.  Creating a well socialized and trained dog ultimately takes time, focus, consistency, and lots of patience!
Check us out on YouTube....   On Thursday, February 17th, 2011 we were on FOX40 Live with Bethany Crouch for 2 part segments: Part 1 of 2 & Part 2 of 2.  We hope you enjoy!